..a mass scraper (for what?)..
These are some drafts for snail mail postcards we once made. I am gonna upload the final results some day too.
…. Wow, there are my boots …. Awww can you sing that lovesong again? ….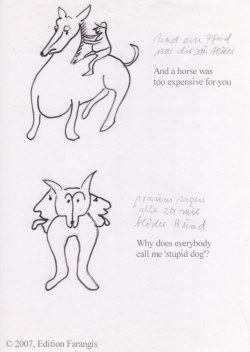 …. And a horse was too expensive for you …. Why does everybody call me 'stupid dog'? ….
…. Why is everything I have so long …. What do I have to do with the camel
…. Cos I'm your guardian angel …. And you think these pants are practical
…. Uh oh, who made this one for you …. But I wanted a sweet dog
…. Do you really think that's comfortable …. Well who is the crown of the creation
…. I'm so sad, nobody loves me …. Unbelievable, such a big dog and such a little tail