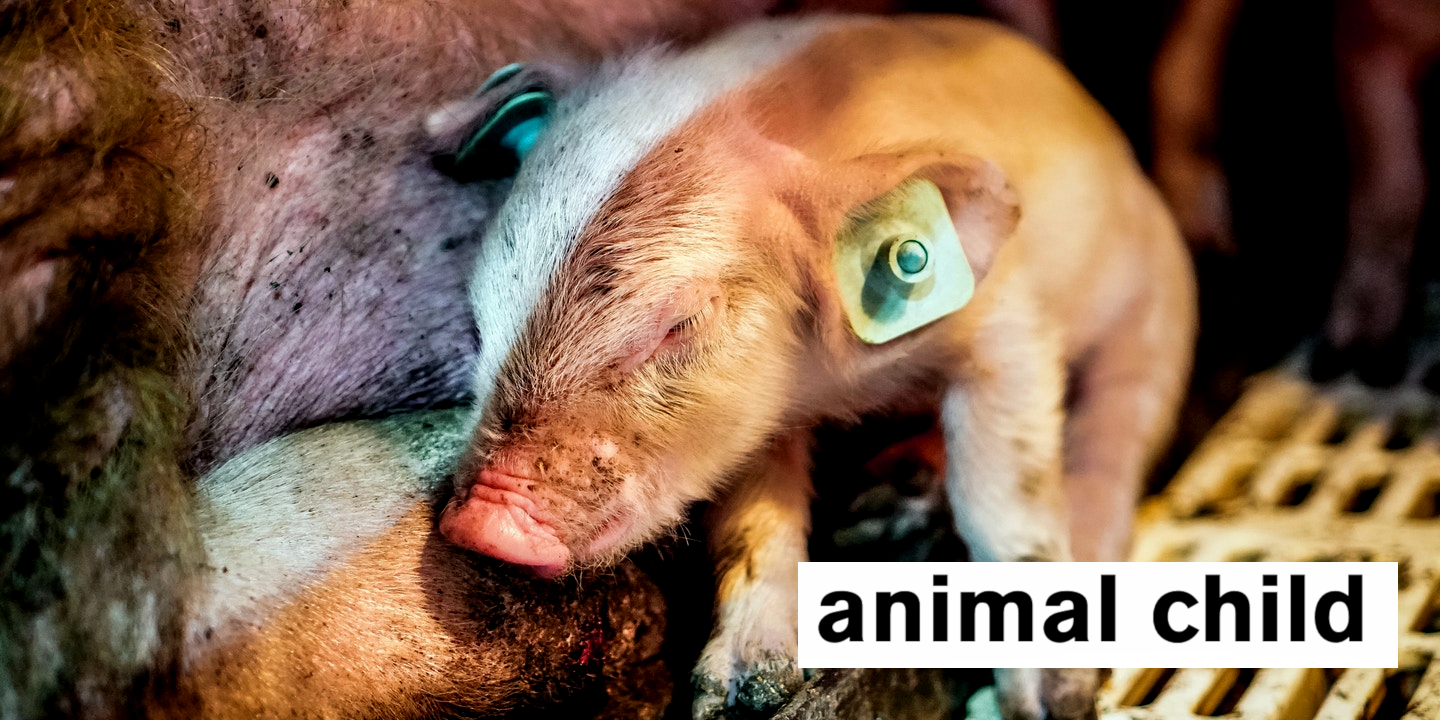 If you love something, you don't kill it
Jim Sinclair
[This is a response to Temple Grandin's writing about her work in the slaughter industry, especially as described in Thinking in Pictures.]
If you love something, you don't kill it. I didn't need to spend time in a squeeze box to learn that. Love is not killing.
If you know what another being feels–not just how you feel when you touch it–then you know that living things want to remain alive. It doesn't matter if they're not afraid of death before they know what's going to happen to them. In the moment when the killing happens, they know, and they want to stay alive. I have seen this, and I have felt death happen. I haven't seen as much of death as someone who is obsessively drawn to slaughter factories, but I've seen enough to know. Life does not consent to be killed. I don't need a Ph.D. in animal science to recognize that.
Dying as a natural process is not the same as killing a healthy living creature. I have witnessed sudden death from injury, and gradual death from aging or disease. They're not the same. (I have not witnessed deliberately inflicted death, because I will not stand by and allow killing to happen in my presence.) It's irrelevant if a middle-aged scientist can say that she doesn't fear death, that she understands it as a natural part of life. Almost all the beings whose lives she helps end are immature or just barely mature. Almost none of them are close to natural death. They're not ready to die. If someone were to shoot or stab or electrocute the middle-aged scientist today, she might find that she's not ready to die either.
If you understand life, you know that it wants to continue. If you feel life throbbing under your touch, you know it's desecration to set your hand to stop that living pulse. If you love something, you don't kill it.
There's a special technique involved in tying a hangman's noose so the victim is killed instantly by a broken neck, rather than slowly by strangulation. I suppose it's part of a hangman's professional expertise to learn to tie this knot properly. That expertise doesn't make the hangman a caring or compassionate person.
The hangman's knot, the guillotine, the electric chair, the gas chamber, and the lethal injection were all designed to make deliberately inflicted death less painful to the victim. But I've never heard the inventors or the users of these technologies hailed as great humanitarians. I've never heard them praised for their great empathy toward the lives they've ended.
Certainly it takes some ingenuity to invent new equipment. I'm a pretty smart person, but my expertise with knots is limited to being able to tie my shoes, to make a slip knot and a square knot. I tie these knots the way others taught me to tie them; I've never invented a new kind of knot by myself. If I were to try to design a knot that could quickly and painlessly kill someone, I'd never be able to figure it out. Whoever invented that knot had a type of mechanical creativity and skill that I don't have.
But if I did have it, I'd use it for other purposes. I wouldn't need to invent a way to kill with a knot, because I would never be willing to participate in any way in killing a bound and defenseless person. Skill and ingenuity are not the same as empathy and caring.
And love is not the same thing as killing. If you love something, you don't kill it. It's as simple as that.
Copyright (c) 1998 Jim Sinclair